Event: Reflecting on Challenging Histories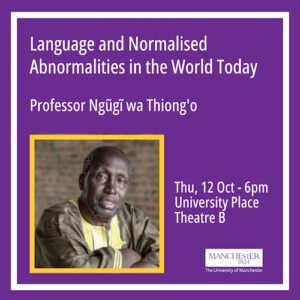 Join Professor Ngugi wa Thiong'o on Thursday, 12 October for a fascinating lecture exploring how to remedy colonial legacies.
On Thursday, 12 October 2023, the Universty's School of Social Sciences are hosting their Annual Arthur Lewis Lecture, this year welcoming an esteemed guest: Professor Ngũgĩ wa Thiong'o.
Professor Ngũgĩ wa Thiong'o is renowned as East Africa's leading novelist, and his lifelong dedication as a scholar and activist has left an indelible mark on the global decolonization movement, particularly for the African diaspora. Over the years, from 1964 to 2022, Professor Ngugi has been honoured with numerous awards, honorary doctorates, and prizes in recognition of his life-long efforts against the adverse impacts of colonization.
In this lecture, Professor Ngugi will delve into the enduring consequences of colonialism and imperialism on native languages, African knowledge, memory, genocide, and environmental harm. The talk will be followed by a thought-provoking conversation with Esther Stanford-Xosei, a dedicated community advocate and an international expert in the field of reparatory justice. Together, they will explore African-centered solutions to these enduring legacies.
This event, coinciding with Black History Month, provides a unique opportunity to directly engage with the insights of BAME (Black, Asian, and Minority Ethnic) scholars, advocates, and activists on the harms of colonialism and how to recognise and overcome them.
Admission to the lecture is free, but booking in advance is essential.
Tickets and more information about the event are available here.