Community Festival 2023
There's so much to do at our Community Festival. Whether you are young or old, interested in science or art, want to get hands-on and have fun or just want to find out more about the plethora of work that takes place at the University, join us for a fun day of family activities.
Get your free Community Festival tickets here. Keep up to date with all the activities – follow us on Twitter @SocialResponUoM #communityfestUoM
Here are just some of the fun activities on offer at the Community Festival, 10 June 2023, 11:00 – 16:00, at The University of Manchester…
Drop-in, hands-on activities are taking place across the following venues:
Just some of the activities on offer:
Highlights in Manchester Museum:
Performance: Music is in our DNA: A musical performance with storytelling, in partnership with the Olympias Music Foundation. A set of musical stories developed by 'Migrant Voices' musicians Gulcin Bulut (Turkey), Cecilia Keuffer (Brazil), Sarah Ampil (Australia/Philippines), written in collaboration with British-Malawian storyteller, Richard Kankondo (aka Marco Woolf). Join us for musical stories about birds, journeys, circles, identity and belonging. Music is in our DNA is part of a wider programme of events which enable communities across Manchester to reflect upon genetic identity, migration, place and public memory. (Performances taking place in Manchester Museum, South Asia Gallery performance space at 1pm, 2pm and 3pm)
Performance: Digital Immersion: an immersive African experience: This performance showcases how digital creativity can be combined with traditional creative practices to provide a truly unique creative immersive experience. Bringing together inspirational musicians from  to perform and share the enticing sounds of traditional African drumming and dance and combining technology such as visuals and lighting to create a truly African immersive digital landscape. (Performance taking place in in Manchester Museum, South Asia Gallery performance space at 12pm)
Guess the fossil: We challenge you to match our selection of fossils and bones to the right animal. You'll also meet our expert palaeontologists who will share their work on ancient life. (Find them in the Fossils Gallery)
Mapping Creativity and Wellbeing in Greater Manchester: Organisation of hope – help us find out about activities, places and spaces that enable people to be creative and enhance their wellbeing. Draw and pin your experiences on our giant map and tell us what is important to you! (Find them in the Living Worlds Gallery)
Discover the wonders of the universe: What's that bright light in the sky? Humans have always looked up at the skies and marvelled at the Sun, Moon, planets and stars, in an attempt to understand our own sense of place and purpose, here on Earth. Meet the Jodrell Bank Centre for Engagement team to learn the basics of how to find your way around the night sky and connect with the cosmos! (Find them in the Nature's Library Gallery)
Playing the RoundView: What can we learn about carbon, life and chemistry from our global shared story? Where do we, as humans, fit in? How can we design things differently, so that nature and people can thrive? What if everyone knew the three root causes of all environmental problems? Come and play word games and puzzles to build into intriguing images and poems, and learn the science behind a simple set of guidelines that we can use to create transformative change for a sustainable future. (Find them in the Nature's Library Gallery)
Ardwick Climate Action: Meet our community partners from Ardwick. Learn about their work and have a go at ethical garden design that works for nature! (Find them in the Nature's Library Gallery)
Dab Hands and Lantern Slides: Join Lucy Burscough, Artist in Residence, Manchester Museum for some fun badge making activities. Celebrate the extraordinary relationship that we have with our hands, find out more about the Dab Hands exhibition and get inspired with some of the Museum's magic lantern slides dating back to the 1900s. (Find them on The Top Floor between 2-4pm)
Celebrating Languages Trail: Grab your activity sheet from and follow the language-themed trail around the Museum's enchanting collections, thinking about your own language(s) along the way. Once completed collect a badge for your efforts!
Highlights in University Place:
Skin and bone: Make a DNA bracelet, take a look under your skin with a thermal imaging camera and find out what a taste for sprouts can tell you about genetics. Explore the effect the sun can have on your skin and how you can take care of it. Discover what makes you different from others as you learn how your genes and lifestyle may affect your skin and bones.
Exploring health psychology: Come and spin the wheel of health to find out more about how we make decisions about our health and how health psychology can help.
The hidden world of microbes: We'll explore the microbes all around us, in the soil, on our phones and on our skin. Investigate how microbes interact and share information between one another and take away a copy of our comic 'And the microbes – bizarre bacteria and peculiar plasmids'.
Microbes and you: Microbes are organisms that are too small to be seen without using a microscope. We will bring the mysterious world of microbes closer to you through several interactive activities designed to educate and entertain!
The heart experience: Your heart beats an incredible 100,000 times a day! Find out how your heart beats and make your own heart. Explore the inside of a healthy and not-so-healthy blood vessel and take a closer look at the hearts of different animals.
Before you were born: Come learn about the incredible organ that helps babies grow – placentas! Interactive activities will cover what the placenta does, what can harm the placenta and also harm the growing baby, and possible ways to monitor and treat placentas that are not working properly and are putting the baby's health at risk.
To clean or not to clean: Find out everything you need to know about good and bad bacteria and viruses. Take part in mini experiments as we explore the effectiveness of our hand washing habits and how easy or not it is to transmit germs!
Hidden heroes: animals in science: An interactive stand which exploring the important role of animal research. We will focus on what animals are used for and our high standard of care and welfare.
The science of sound: Explore the secret structures of your ear using our audiology equipment and take your own photo home. Find out about different sound levels and roar into a sound chamber to see what sound levels you can make compared to a rocket at blast-off!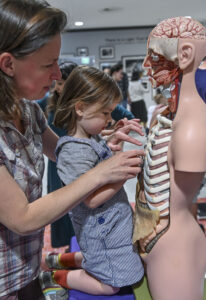 Primary Care for Primary Kids (Medicine for kids): Take a closer look at yourself as we measure your blood oxygen and heart-rate using an oxymeter; listen to your heart using a stethoscope; and measure your height and weight to calculate your Body Mass Index.
Creative Manchester and the Linguistics Diversity Collective: We're exploring a host of creative activities – Manchester is a city of many languages and dialects. Explore your own language use and contribute to a linguistic snapshot of the city. Can you visualise what you say? Find out what your speech looks like as a sound wave and spectrogram. Take part in our science-themed 'found poetry' activity and explore the Schools Writing Trail and Schools Poetry Competition. Help decide the people's choice award of the UK-China International Photography Competition – this year's theme is "Family Treasures".
Whitworth Babies: Under 2's and their grown-ups are invited to come together to play, be curious and be creative with simple, open-ended play resources in our sensory play zone, located in University Place.
Make your own cress head! Our student volunteers often get involved with local environmental projects. We partner with organisations like The Kindling Trust and Incredible Edible, as they work to grow food sustainably and tackle food poverty. Today you can make your own cress head to take home, so that you and your family can have delicious cress to eat.
Fighting killer fungus: When you think of deadly infections, fungi might not be the first thing that pops into your head. But the threat of deadly fungal infection is on the rise. We will explain why some fungal infections are so dangerous and others aren't, what factors are making this a growing threat and what we are doing to help fight these nasty infections.
Treating cancer with radiation: Radiotherapy is the treatment of cancer using radiation and over 50% of cancer patients in the UK will receive radiotherapy as a part of their treatment. Come and explore the role that physics and computer science play at each step of modern radiotherapy treatment.
What is your nervous system made up of? There are more than 200 billion cells in your nervous system. Are they all the same type of cells? What do they do? We will be exploring the differentcell types in your nervous system and learning what do they do by using pipe cleaners.
Connecting wellbeing and mental health – lessons from education: Come visit to find out how wellbeing, mental health and education come together within schools. You can try out some simple strategies and boost your own wellbeing.
Getting rid of viruses from the body: Find out what role different immune cells play in ridding the body of viruses. We'll challenge you to try to neutralise a virus by throwing white blood cells at it, experience "splat the virus' and explore the good and bad bugs in the our gut!
My Manchester Memories: Do you remember your Manchester firsts? Were you the first in your family to come to the University? Do you remember the first time you visited campus? The first time you got on a bus on Oxford road, or visited the academy? Come and share your firsts with us and add them to our Manchester Memories wall.
Women in STEM: Help us create a display to celebrate the contributions and achievements of women in the fields of science, technology, engineering, and mathematics (STEM). Be inspired and help us inspire the next generation!
Electric dreams: Take a trip back in time and see how the future of science and technology looked in the first days of the digital revolution. With live demonstrations, games and video clips, we'll explore how computers, robots, and new scientific ideas reached into everyday life in the 1970s and 80s, and how these projects influenced the technologies and teaching of today.
Critical thinking philosophy: Find out how Susan Stebbing a British philosopher, overcame a sickly childhood to become an influential thinker and educator. Use your critical thinking skills to spot flaws in fake advertisements.
Meet the Public Contributors: We actively involve approximately 800 patients and the members of the public each year in our research and education. From ground-breaking research to engaging the public in educational events, there are many ways we carry out public and patient involvement and engagement at Manchester. Chat with our Public Contributors and find out how they are making a difference and having an impact on our work. 
Help us design our 200th birthday celebrations! Next year we're excited to be celebrating the University's 200th birthday and we need your creative ideas to help us design some unforgettable events and activities for everyone. Come along to get involved in some fun birthday activities and share your party planning thoughts with us!
One World Together: Find out how we are enabling enterprises to strengthen community based organisations – locally and globally and transforming our understanding of poverty and inequality.
Ways to get involved in Mental Health Research: Meet the Research Team to hear about how we aim to tackle inequalities in research across the University of Manchester and Greater Manchester Mental Health Trust to improve mental health services so that minoritised* groups and people with protected characteristics (e.g. race/ethnicity, gender, age, disability, sex, sexual orientation) receive the care that they want and need. 
Sustainable Development Goals: The United Nations 17 Sustainable Development Goals (SDGs) are out world's call to action on the most pressing challenges and opportunities facing humanity and our natural world. Find out how our work at the University is addressing these challenges. Be sure to look out for the SDGs at each Festival activity!
Highlights in Engineering Building A:
Science story time: Join us for some quiet time. We've hand-picked popular children's books and together we'll discover fun facts, incredible images and the hidden science in a book. (Engineering Building A, 12pm, 2pm and 3pm)
Once upon a time: Chinese fables: Meet our community partners, the Huaxia Chinese School, where young people will tell you three short ancient stories that formed three Chinese idioms, people still use these idioms today. They are Carving the boat to find your sword, Helping the seedlings grow, and The spear and the shield. The story telling is in English. (Engineering Building A, 1pm)
Virtual reality: education and recreation: Explore fully immersive, interactive virtual environments for medical education, machine learning for music and virtual museums. You can also experience swimming with dolphins, walking a plank 500ft above the ground and other fun activities.
Things about chocolate: Ever wondered how strong chocolate is or how colourful chocolate can be and what might that mean for material science? Let's find out together with the Chocolate Impactor and iridescent chocolate experiment!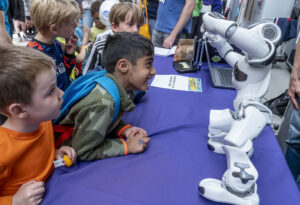 Space rocks! What does a piece of the Moon look like up close? Have you held the core of an asteroid? Spotting rocks from space is easy when they're still hurtling through the sky, but once they've landed, how can we tell them from other boulders, stones or pebbles? Have a go at space sleuthing yourself by trying out the tricks and techniques used by astro-geologists to find meteorites here on Earth.
Lego rovers: Ever wondered what it would be like to control a Mars Rover? Come and drive one of our Lego Rovers to experience the challenge of controlling a robot on another planet, and learn about how robots are programmed to do tasks like avoiding obstacles.
Physics tricks: Get hands on with some simple table-top physics experiments, see practical demonstrations and find out how physics is a part of our everyday lives.
From cloud chambers to the LHC: Sub-atomic particles are all around us and scientists have been studying their nature for over 100 years. We will take a look at some of the ways scientists can visualise or detect these particles from the cloud chamber to the Large Hadron Collider (LHC) experiments.
Graphene, the material of the future! Walk through the history of graphene from discovery to future application. Make your own graphene and see how researchers are exploiting the incredible properties of this one-atom-thick material and other 2D materials.
Nuclear energy – who, what, where, how?: See how a nuclear power plant generates electricity! Find out how how nuclear waste can be stored safely underground. Help us detect the radiation emitted from different everyday objects.
From Plants to Implants: Tissue engineering aims to build replacement body parts to help or replace injured tissue. To do this, we need to make sure we have a good scaffold to build our tissue around. We take inspiration from nature to design these whether from existing body structures or even plants!
Sustainability and the Fashion Industry: the true costs of my clothes: Are you ready to unfold the hidden cost of fashion garments and clothing through an item of clothing you are wearing? Where is the country of origin of your garment? How did your garment arrive to the UK? What can you do as a consumer to positively think about the journey, carbon footprint, and equality of workers of the garment you are wearing?
Campus tree trail: Discover the variety of trees we have on campus by taking part in our 'identify a tree' activity. We will also be giving away tiny plants! 
Highlights in the Royce Hub:
Marvellous Materials at Royce! Discover the fascinating world of materials science and visit our exhibition about the history of metals! From metallurgy, nuclear materials, structural integrity, to materials at the atomic scale! Learn about aircraft design and metal manipulation with the Lightform group; research better materials for nuclear power with the MIDAS group; Create delicious chocolate bridges with the SAFER group; and discover the fascinating world of atoms with the Photon Science Institute. Plus you can visit our exhibition 'Metals: Pioneering Materials – exploring the intriguing histories of various metals and explaining why metals are all around us!
Highlights outdoors:
Join us on a Heritage Tour of The University of Manchester. Uncover the stories behind our historic buildings as we take you on a tour of our unique campus and find out more about our world-changing discoveries. Tours start in the Old Quadrangle. Tours run at 11am, 12:30pm, and 2pm. Booking essential. Book your tickets here:
Biotech Science Buskers will be roaming throughout the Festival to intrigue and entertain you with sensational science tricks. Explore genetically modified bacteria and see how greener, bio-inspired solutions are addressing environmental sustainability challenges.
Outdoor Art Club: Forest School inspired outdoor play for under 5's led by a local artist. Our workshop brings art, nature and creativity together. Prepare for it to be messy!
Sporting Challenges: Come and test your penalty taking and kick and stick dartboard skills and earn a chance at winning a prize with SPORT Manchester.
Just for fun…
Face Painting: Get into the festival sprit with inspired decorative creations from our talented face painters. (Engineering Building A and University Place.)
Climbing Wall and Helter Skelter! (Williamson Square)
Photography Exhibitions including the winners of the Sustainability Challenge student photography competition and help decide the people's choice award of the UK-China International Photography Competition – this year's theme is "Family Treasures".
There really is something for everyone at our Community Festival! Get your free tickets here.
Places to Eat: Manchester Museum Cafe open 8am – 5pm;  Collaborate Cafe in Engineering Building A (building 24) open 11:30am – 3:30pm; and various public venues on Oxdford Rd. You are also welcome to picnic in Engineering Building A and in our outdoor spaces for example Alan Turing Green, Brunswick Park or University Green.
Getting Here: Take a look at our maps and travel advice to help you make your way to and around The University of Manchester. (Note: If travelling by car, please note parking is limited and the nearest public car park is Booth Street West Multi-Storey, M15 6AR (Access via Higher Cambridge Street). A list of other University carparks can be found here (please note the Aquatics Centre carpark on Booth Street East is currently closed).