British Heart Foundation pop-up shops: AMBS students raise funds and gain valuable experience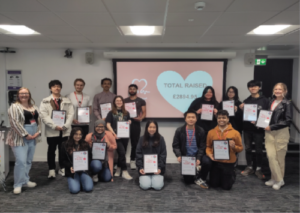 14 students from the Alliance Manchester Business School (AMBS) recently ran their own pop-up shops on campus to raise vital funds for the British Heart Foundation (BHF). Split into two teams, these first-year students aimed to maximize their contributions to the BHF while gaining valuable commercial experience and competing to be the winning team!
As part of this volunteering initiative, the student groups were assigned to a local BHF shop, the Piccadilly shop in the city centre and the Chorlton shop. Each group was given the target of £500 profit to generate from their shop sales to ensure the BHF received a return on investment. Yet the Piccadilly group's pop-up shop generated an impressive £1,120.25, while the Chorlton group exceeded expectations with £1,774.70! The combined total of £2,894.95 is an amazing amount for the charity, almost covering the expenses for a BHF scientist to run their laboratory for three days.
Throughout the project, the students took on the responsibility of sourcing stock, marketing their shops, and of course selling the second-hand clothes, books, games and more. Along the way, they utilised their existing business skills and acquired new ones, setting themselves up for success in future endeavours.
The University has a longstanding partnership with the British Heart Foundation, recognizing the organization's vital work in combating heart disease and supporting cardiovascular research. This collaboration between the charity, the University's Volunteering & Awards Team and AMBS enables business students to actively contribute to the BHF's mission while fostering their social responsibility and honing their skills.
The timing of these pop-up shops couldn't be more relevant, given students' growing concerns about fast fashion and the cost of living crisis. The focus on second-hand clothing and sustainable consumption strongly resonates within the University community, providing an avenue for conscious shopping and support for a worthy cause.
The concept of AMBS students running pop-up shops to support BHF originated in 2019 with the goal of increasing volunteer participation among business students. Hence the University is the charity's most successful partner to have student-led BHF pop-up shops on campus. The continued success of this project has made it a flagship initiative, gaining recognition within and beyond the University. Its potential to be replicated across the UK highlights the innovative approach to fundraising and experiential learning, which can have a lasting impact on volunteering and educational experiences for students nationwide.