Dentistry conference celebrates 10 year anniversary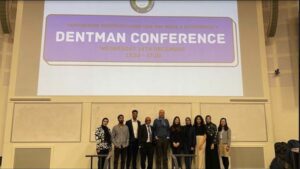 Over 1 in 3 five-year-olds in Greater Manchester suffer from tooth decay, well above the national average of 25%. These numbers are not spread equally over Greater Manchester however; in some local areas, tooth decay can affect over half of young children.
To tackle these dental health inequalities, the Manchester Dental School pioneered the 'Humanising Dentistry' concept, whereby Service Learning, a teaching and learning approach which combines community engagement and academic study, is built into the curriculum. Through this, dental students are providing essential treatment to those in greatest need as part of their training.
Each year, the student led 'DentMan conference' provides a platform for dental students to demonstrate and celebrate how they have made a difference to these dental health inequalities across Greater Manchester and beyond.
Celebrating its milestone 10-year anniversary, the latest DentMan conference took place in December 2022.
Attended by over 200 staff, students and oral healthcare professionals, the conference was lively and diverse in projects.
Various student led activities were presented on the day, displaying the wealth of services students are providing to both local and global communities.
These included:
Manchester Paediatric Dental Society: A student developed project which educates primary school children on oral care using educational toys and props. Presentations and resources are also provided to parents, including educational leaflets, which have been translated to various languages such as Urdu and Tamil.
Dental Playbox Initiative: An initiative to educate parents and children on oral health using educational props and goodie bags. The team has volunteered in both schools and national events.
Refugee Crisis Foundation: A team of student volunteers that provide dental care and oral health advice for refugees. In the past this has included work in the Calais refugee camp and current work in the Rohingya refugee camp in Cox's Bazaar, Bangladesh, the largest refugee camp in the world. The students also actively involve in fund raising events for their projects.
The Manchester Muslim Dental Guide: A project which has developed a guide which provides information and advice for Muslim students to practice their faith during their studies without compromising either.
Manchester Outreach Dentists: A project which provides application support to those from low socio-economic backgrounds when applying for dentistry.
First Language Project: A project which connects bilingual or multilingual students with appropriate community in Manchester to deliver health education and services in their own language to bypass the language barrier. Our students also become role models for the younger generation in that community.
The event also allocated time for students to network and sign up for the projects featured during the conference. Also highlighted were a rich selection of exchange opportunities for students, where students can gain international experience in dentistry.
Professor Raj Ariyaratnam, founder and patron of DentMan, shared the history of the conference and celebrated its success: The University of Manchester was founded on the principle of civic engagement in the early part of 19th century, and we continued to excel in social responsibility and currently We are focusing on the question of "What we are good for?"
"Aligned with this strategic vision, we pioneered the concept of humanising dentistry, and through service learning and volunteering we positively interlocked the student's emotional learning experience with combating oral health inequalities in Manchester and beyond. 
We created a learning environment for the students in which they have the freedom and support to take initiatives and leadership to get involved in community engagement projects and they have performed exceedingly well locally and globally over the last 10 years.
They organise the DentMan conference every year and use it as a platform to celebrate and share their local and global symbiotic community partnership experiences with others and to inspire the future generation of students and staff. They have just completed their 10th annual conference and it was a huge success!"