Exceptional PhD Student Receives 'Most Promising Young Person in Manchester' Award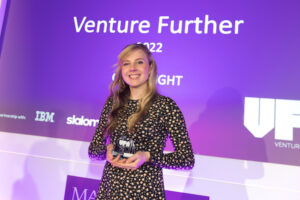 Whether discouraged by adults and peers, or historically shunned by organisations such as the FA and FIFA, many women grow up with limited access to football. More recently, the FA's trans-exclusionary policies have further alienated transgender women who would like to play the game.
In response to this, the Alternative Football League was formed. Alternative Football runs the North West's first and only fully inclusive, small-sided football league for women, non-binary, and transgender individuals in Manchester – called the AF League. The AF League was formed in mid-2021 in Whalley Range and is now in its 5th season. Regardless of ability, experience, gender identity, or background, the league is welcome to all, especially those who feel like traditionally they have not had a safe space to play.
Originally a player in the league, University of Manchester PhD student, Beth Barnes found her participation to be beneficial for her mental health and discovered that other players had similar positive experiences. Beth decided that the league could be made into a social enterprise where football can be used as a platform to improve the mental health of women and LGBTQ+ individuals across the UK. As a result, in May 2022, Beth entered the University's Venture Further start-up competition and won £10,000 in start-up funding. This helped them become a Community Interest Company (CIC), add a second venue in Cheetham Hill and is funding their mental health community work. Alternative Football was also recently shortlisted for a Northwest Football Award in the Kick It Out: Promoting Inclusion category.
Led by Beth, Alternative Football also offer free football for people from low socio-economic backgrounds and their profits are reinvested into mental health in women's football. Beth is also currently spearheading a mental health and inclusivity workshop to take across the UK.
Testament to her efforts, Beth was recently awarded the Manchester Young Talent Awards 2022 Most Promising Young Person in Manchester.
Since winning the start-up funding, the league has tripled in size. Alternative football now has over 18 teams and more than 250 players between the two leagues in Manchester. Beth will also be setting up a third league in Liverpool in the New Year.
Follow the Alternative Football League on Instagram: @theafleague