Michael O'Toole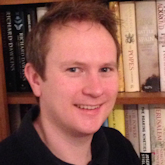 Lecturer in Electronic Engineering
I'm an engineer and conduct research on developing new sensors and instrumentation that exploit how magnetic fields interact with conductive objects to reveal properties about those objects without compromising them (i.e. non-destructive testing).
The most everyday example of this you might see are metal detectors – for example, the portals you walk through at airports.
My colleagues and I have been working on new sensors and systems, with new smart algorithms to generate new information from our measured data, towards creating new technology for scrap metal identification in the recycling industry, for the inspection of food and agricultural produce, and healthcare applications such as head-injury diagnosis.
Public engagement highlights
I've been active in public engagement since first joining the University in 2011.
I played a big role in the Manchester Branch of the British Science Association (now called the Manchester Science Hive), organising and participating in events from stalls at science festivals (bluedot, Science Spectacular, etc) to science-themed pub quizzes and lectures.
Some particular highlights: organising a stand for the Cheltenham science festival titled 'Sensing Danger', exhibiting my group's activity developing new detectors for humanitarian landmine clearance. The stand attracted over 3,500 visitors over the festival week.
I've organised and coordinated a number of competitions with schools and colleges across Greater Manchester, including Dragon's Den style science-business competitions and science-video competitions such as three-minute science and the Sci-Cast competition.
The real highlight is the fantastic quality of the pitches, presentations and videos created by the young people involved in those competitions.
Best public engagement advice
I've had some fantastic suggestions and ideas from the public over the years for new activities and events, or how we can improve our public engagement and outreach. I think these genuine conversations are invaluable and can be a real source inspiration and challenge.
You meet people from all sorts of backgrounds, with different stories to tell, lived experiences, and points of view – from people who run their tech clubs in their own communities to the one who thought research was a 'waste of time'. These perspectives can enrich and enliven your own engagement.
Find out more