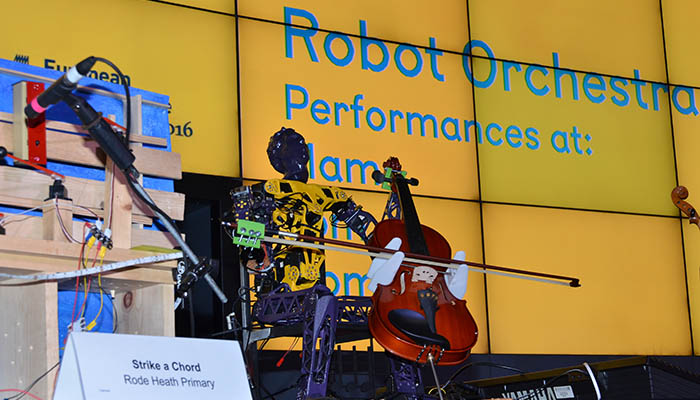 Robot Orchestra
Inspiring the next generation of engineers, the Robot Orchestra, led by Professor Danielle George, enables young people to learn computer coding and recycle things to make robot instruments, which are linked together by a robotic conductor to play music.
The Orchestra was originally a flagship project to celebrate Manchester being the European City of Science in 2016. A Hack Day was held with 200 primary school children from 23 local schools and partner organisations such as Apple, The Hive and Noisy Toys, who led workshops to build music-making robots.
Around 20 robots were created, and Siemens built a special robot conductor to keep the other robots to time. University music students visited schools to teach children how to compose music for the Robot Orchestra to play. The Orchestra then performed with musicians from the Hallé Orchestra, a 'Brighter Sound' soul band and hip-hop singer, and a robotic Ed Sheeran to produce free shows in the local community and at key venues across Manchester.
"We are effectively trying to deliver an engineering project via crowd-sourcing. I want to show how everyone can discover the secret engineer inside themselves – and build an amazing machine from their imagination. A new musical engineering revolution has begun!"
Professor Danielle George
The Robot Orchestra then went on tour with Danielle's 'Hack Your Home' show and broadened its audience when it was featured in a BBC iPlayer documentary 'Can a Robot Replace Ed Sheeran?', which had 2,000 views in its first month and won the Association of International Broadcasting Award 2017 in the Children's and Youth category.
The Orchestra's media profile has continued to grow with behind the scenes footage appearing on the BBC Make it Digital website, and it featured in the relaunch of the BBC Microbit music video 'What if … Robots Replaced Teachers?'
But this crowdsourcing project doesn't stop there, as schools can now make their own robot instruments with a Robot Orchestra making kit.