Manchester-China Friendship Programme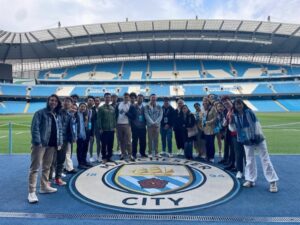 Our Manchester-China Friendship Programme (MCFP) brings together British and Chinese students, increasing cultural integration on campus. 
MCFP was launched in 2021 by Manchester China Institute (MCI) and Manchester China Forum (MCF), with support from the University of Manchester, aiming to integrate new Chinese students into campus life, while simultaneously enriching the campus experience for local students. Now in its second edition, the scheme includes 40 UK-based "host" students and 60 newly-arrived Chinese students that engage in regular exciting events, seeking to overcome cultural barriers.
Recently, the Lord Mayor of Manchester, Councillor Donna Ludford, hosted a fruitful discussion with MCFP's participants at Manchester's Central Library. The event was an opportunity for MCFP students to share their experiences in the scheme and ask direct questions to the Lord Mayor, while enjoying an afternoon tea together. Students also addressed the challenges faced by Chinese youngsters across Manchester, which sparked a larger conversation about generating further Sino-British synergy.
Two weeks later, MCFP students toured Etihad Stadium – home of Manchester City Football Club. On site, they learned about the stadium's history, visited the team's locker rooms, and sat on the same pitch as international football legends. MCFP student, Yixin Wang, described the experience as a "dream come true for a City fan". Moreover, she added: "[It was] so amazing to find the behind-the-scenes fun stories about players. Also, it's so nice to go out with MCFP and have fun with my new friends".
Throughout the academic year, MCFP students have been involved in a varied series of activities, such as celebrating the Chinese New Year, taking a historic tour of Manchester, and attending a dumpling-making workshop together, to name but a few. Through these exchanges, University of Manchester British and Chinese students can better understand each other's cultural heritage and enhance social inclusion on campus.