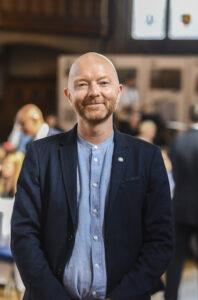 We are delighted to announce today (1 June 2023) that The University of Manchester has been placed first in the UK, first in Europe and second in the world for our commitment to achieving the United Nations' Sustainable Development Goals (SDGs). This was achieved against a backdrop of 1,705 universities from 115 countries submitting data for the annual Times Higher Education Impact Ranking. We are the only university in the world to feature in the top 10 for social and environmental impact for each of the five years since this ranking was created. This is another wonderful achievement that reflects favourably on the contributions of our research, teaching, cultural institution and professional staff, our students, our alumni and our external partners. 
Earlier in May we celebrated 16 winners and 21 highly commended teams from staff, students, alumni and external partners at our annual Making a Difference Awards. These covered categories including research impact, widening participation, environmental sustainability and equality, diversity and inclusion, with Chancellor Nazir Afzal OBE handing out the prizes. If you missed this please see the full list of our winners and highly commended and check our Awards Ceremony on catch up.  
If this isn't in your diary, be sure to get along to our annual Community Festival which runs from 11am – 4pm on Saturday 10 June where we're opening our doors to the local community to showcase our world-changing discoveries across the sciences, medicine and the arts. There are science experiments, creative sessions, poetry, music performances, story time, forestry school, sporting challenges, heritage tours, face-painting, a helter-skelter, …and much, much more to get involved with! 
On social inclusion this month, our flagship widening-participation programme – the Manchester Access Programme – officially launched with 657 students from across Greater Manchester. We've published our new Access and Student Success 2022 Impact Report, which evaluates our work to help talented students from non-traditional backgrounds to access Higher Education. This year marks the 75th Anniversary of the arrival of the Empire Windrush to the UK and ahead of National Windrush Day on 22 June we're proud to be supporting The Windrush Warriors performance. We are celebrating the second edition of our Manchester-China Friendship Programme, which increases cultural integration on campus. Right to Clothing, a campaign launched by our School of Law's Dr Luke Graham, is asking people for donations as part Clothing Poverty Awareness Week. And, alongside King's College London, we're proud to partner with The Raheem Sterling Foundation to offer scholarships to support Black African and Caribbean heritage applicants from socio-economically under-represented backgrounds. 
On prosperous communities the stories of four University colleagues took centre stage in a feature in the Manchester Evening News earlier this month, showing how we offer good quality work and job opportunities to people living in our neighbouring communities.  Our Venture Further Awards were held in the Whitworth Hall to celebrate the entrepreneurial talent and creativity from our students and recent graduates where ten teams of entrepreneurs received a share of £100,000 to help take their start-ups to the next level. And we have an upcoming public event to launch a new book, Devolution in Greater Manchester and Liverpool City Region which analyses the progress of these two new mayoral combined authorities alongside the fate of the wider 'Levelling Up' project.  
On better health, we discuss how we have been tackling COVID-19 in Kenya's slums. Motivated to help address the issue of child dental decay, Manchester Paediatric Dentistry Student Society (MPDSS) set up the Dentists in Primary Schools (DiPS) project, which recently won a Making a Difference Award. We share how we're improving maternal and child health through new discoveries and research. And students from the Alliance Manchester Business School (AMBS) recently ran their own pop-up shops on campus to raise vital funds for the British Heart Foundation.

On environmental sustainability, if you're wondering why grass is longer on campus it's because we're participating in No Mow May – Plantlife's annual campaign that calls for garden owners and green space managers to allow lawns to grow freely for a month to provide a much-needed boost for wild plants and wildlife throughout summer. A new policy report from the University of Manchester's 'One Bin to Rule Them All' research team explains what it will take to improve plastic recycling. And our student volunteers helped launch a new Fallowfield community project, removing litter, clearing weeds and installing new planters to make a positive impact on the local community and the environment. 
Finally, on cultural engagement, the John Rylands Research Institute and Library recently hosted a major conference 'Compassion and Care: Emotions and Experience in the Care of Children through History'. The Whitworth and Creative Manchester present Traces of Displacement, an exhibition using the Whitworth's collection to address one of the major humanitarian concerns of the 20th and 21st centuries, forced displacement. And please consider coming along to The Festival of Libraries, a county-wide celebration of Greater Manchester's 133 libraries. This festival allows residents and visitors to Greater Manchester to celebrate the key role that libraries play in civic life, and to use the diverse library service offer creatively. 
Dr Julian Skyrme, Director of Social Responsibility