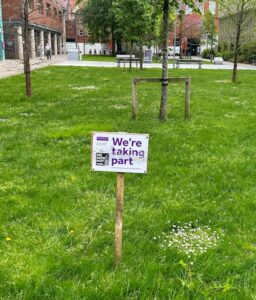 The University is participating in No Mow May, Plant life's annual campaign that calls for garden owners and green space managers to allow lawns to grow freely for a month. The main aim for No Mow May is to provide a much-needed boost for wild plants and wildlife throughout summer.
We have lost nearly 97% of flower rich meadows since the 1970's and with them gone, so are vital food needed by pollinators like bees and butterflies.
The University's Environmental Services Unit have allowed the grass to grow long and wild flowers to flourish on a number of lawns across campus including Brunswick Park, University Green and the Engineering Building to benefit biodiversity, tackle pollution and even lock away carbon below ground.
Julia Durkan, Environmental Sustainability Manager at the University says: "With over 23 million gardens in the UK, even the smallest grassy patches add up to a significant proportion of our land which, if managed properly, can deliver enormous gains for nature, communities and the climate."
"So why not join the University this May and choose not to mow some, or all, of your green space?  By cutting less and later you'll let wild plants get a head start on the summer, so just sit back and watch the flowers grow!"