This is not a women's only fight, we need our allies now more than ever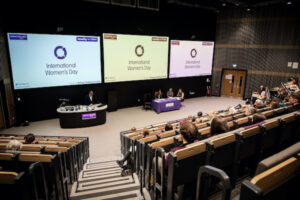 University of Manchester Chancellor, Nazir Afzal OBE, stunned the audience with his heartfelt and passion filled words on International Women's Day (IWD) when he joined Professor Rachel Cowan, Dr Natalie Gardiner and Dr Beth Micakovic at the University flagship event.
The IWD 2023 #EmbraceEquity campaign theme seeks to get the world talking about why 'equal opportunities are no longer enough', and can in fact be exclusionary, rather than inclusive. Instead, gender equity is more desirable. Equity involves giving everyone what they need to be successful, it is not giving everyone the exact same thing.
Nazir Afzal OBE rose to national prominence with some of the UK's highest-profile prosecutions as Chief Crown Prosecutor for the North West of England and formerly Director in London. His prosecutions of the Rochdale 'grooming gang' and the former TV presenter Stuart Hall, amongst hundreds of others were ground-breaking and changed the landscape of child protection.
Nazir talked with inspirational impetus and shared real life experiences about some of the most shocking crises within our current climate. He urged us all to listen to the experiences of victims and more importantly to act upon what we have heard. Nazir stressed the significance of education for everyone, so that harm can be prevented and tolerance can be learned.
Gender struggles have historically been considered as a 'women's issue', as women are the primary driver behind gender equality strategies and campaigns. However, forging gender equity isn't limited to women solely fighting the good fight. Allies are incredibly important for the social, economic, cultural, and political advancement of women.
"This is not a women's only fight, we need our allies now more than ever!" Nazir Afzal OBE, International Women's Day 2023.
If you were unable to attend the event, you can now watch a recording on the Faculty's YouTube channel. 
Please note – due to an unexpected technical issue with microphones during the event, the recording needs to played on a high volume setting.
Your feedback is important to us as it helps shape the events we organise in the future. If you attended or watched the event,  please complete this very short survey.
Further Equality in FBMH events will be running throughout the year.