Science X is back for 2022
ScienceX is back for 2022, bursting with fun, exciting, interactive activities for families.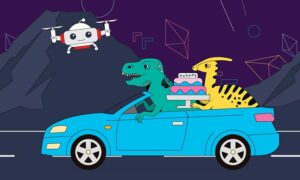 The University of Manchester's Faculty of Science and Engineering's ScienceX event aims to reach family audiences who wouldn't usually seek out science based events or venues. We want to share how exciting, fun and accessible STEM is to these families, and hope to help them to see how science is relevant and interesting to them.
This year, the pop-up festival takes place on 28 and 29 October.  This free, weekend-long science and engineering event will be held at the Manchester Central Library. 
Our friendly scientists and engineers will be there to excite and inspire young creative minds, and future scientists and engineers. 
There will be plenty of opportunities for families to get hands-on with a whole host of experiments – for example, make DNA bracelets, learn about how we programme robots and find out what lives in the ground beneath our feet by taking a soil safari. 
We would love your support to spread the word about ScienceX. Please share the details of the event with any networks you may have and with friends, family, schools social networks or groups you might be in, using the following suggested social media post: 
ScienceX, a fun family event for all ages is coming to Manchester Central Library on the 28 and the 29 October. There is free, fun and hands-on activities for families. Register for free tickets via Facebook or Eventbrite for 28 October and 29 October.