Get Involved, be part of the team: Pint of Science 2023
Get involved in Pint of Science 2023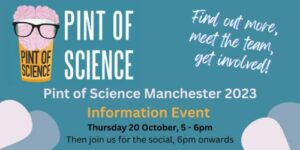 Volunteer to help design, develop and produce events for the 2023 Pint of Science festival.
Get experience in public engagement and event management.
Different roles to suit your interest and experience.
Pint of Science is a three-day festival that takes place in pubs, bars and cafes around the world to allow experts to share their research with the public. Next year's festival is taking place on 22-24 May 2023.
We cover 7 different themes:
Beautiful Minds
Our Body
Atoms to Galaxies
Tech Me Out
Planet Earth
Our Society
Creative Reactions
Check out our full list of events from the 2022 festival here.
We are looking for anyone with an interest in designing, developing and producing events to volunteer to play a part in the 2023 festival. We are particularly enthusiastic for members of the Faculty of Science and Engineering and Faculty of Humanities to get involved as historically most of the organising team tends to come from FBMH and we feel that we lack valuable expertise from your faculty. Pint of Science is a great opportunity to get experience in public engagement and event management. It's also a good way to connect with experts you might not otherwise encounter and broaden your knowledge of research in Manchester.
We will be holding an information evening for anyone interested in getting involved at 5pm on Thursday 20th October in Zochonis Building, Lecture Theatre A followed by a social at Kro Bar (in true Pint of Science style!). Lecture Theatre A is on the bottom floor.
Register your interest in attending here.