Jerome de Groot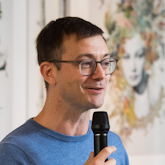 Professor of Literature and Culture in the Department of English, American Studies and Creative Writing
I am interested in how people understand the past, and the ways in which 'history' is told. So I am interested in what people think of popular forms like TV, film, games, and also in co-creation of narratives of the past.
Public engagement highlights
'Platform for Investigation' at the Museum of Science and Industry in January 2019 (700 visitors including 300 children)
Creative workshops with family history practitioners at the Manchester Central Library (they created 'cut-up' poems about their family's past)
Recording podcasts with a range of people around the world
Organising a festival of science and humanities around DNA Day in April 2020. The co-production of work like this has already been amazing and enlightening.
Best public engagement advice
'Less is more – don't try to do loads of activities, but focus what you are doing as much as possible'.
I find that this is particularly true when working with schools – trust your material!
Find out more