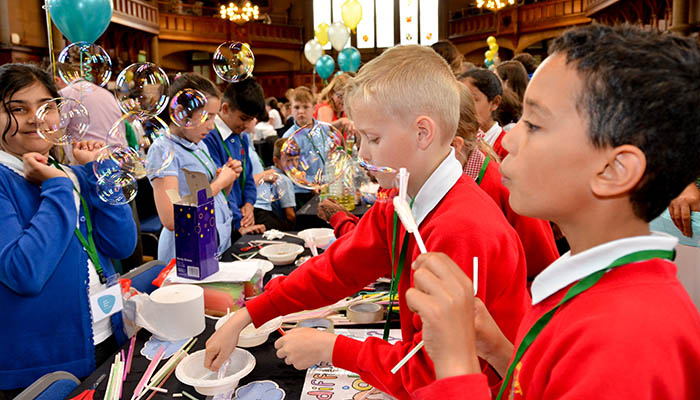 The Great Science Share for Schools
Developed in 2016 by Dr Lynne Bianchi and led by the Science & Engineering Education Research and Innovation Hub, the Great Science Share for Schools is a fast growing national campaign designed to engage young people in science and engineering. The campaign culminates each year in a day of events taking place across the UK and beyond.
The initiative adopts a child-centred approach, encouraging primary and Key Stage 3 pupils to design and share their own scientific questions and investigations with new audiences.
Events are organised in schools, universities, museums and cultural settings. Young people demonstrate mastery of their science learning, using their own methods and theories to involve others in short scientific investigations based on questions that matter to them.
In four years, over 100,000 young people have taken part, with social media increasing the visibility of the events far and wide.
"It just feels good to hear a child's voice explaining, because you can get more understanding – they don't use complicated words!"
Pupil, St Charles' Primary School, Salford
The Great Science Share for Schools has forged new collaborations with universities, local authorities, hospital schools, STEM educators and business groups to encourage sharing across the sector.
But what's really exciting about this initiative is that the scientific questions and investigations are driven by the curiosity and interests of young people: it empowers them to learn, communicate and share science and engineering in ways that they find most fascinating and inspiring for themselves and their peers.
Find out more on the Great Science Share for Schools website.