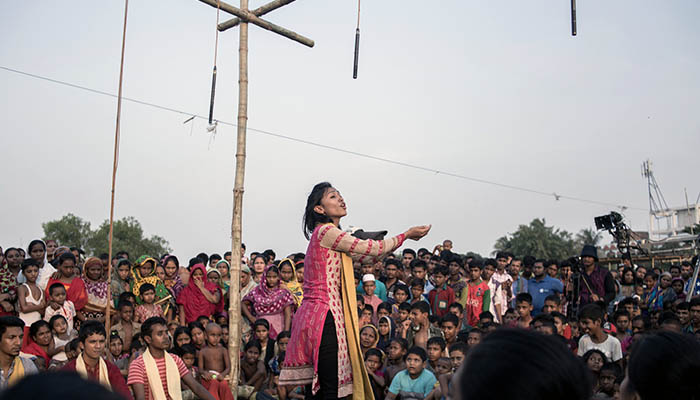 The Lived Experience of Climate Change: A Story of One Piece of Land in Dhaka
This innovative project aimed to examine the everyday realities and impact of climate change on the lives of slum dwellers in Dhaka, Bangladesh.
After talking to over 600 people living in a slum, Dr Joanne Jordan set out to communicate her findings to a diverse audience in an accessible way, challenging pre-existing notions of how ordinary people experience and deal with climate change.
Joanne teamed up with Theatre and Performance Studies colleagues at the University of Dhaka to explore the research findings through a traditional folk performance combining melody, drama, pictures and dancing, known as a Pot Gan. The script was based on direct testimony of the people engaged though the research.
The Pot Gan was performed in the slum where the research was conducted and at the 10th International Conference on Community-based Adaptation to Climate Change. There was also a performance at the British Council in Dhaka where researchers, practitioners and policymakers were encouraged to reflect on the day-to-day realities of the urban poor living with climate change.
To bring the stories from the Dhaka slum dwellers to a larger international audience, the performances were filmed to produce a documentary. This premiered at Manchester Museum's Climate Control exhibition and since going online the film has been viewed over 100,000 times.