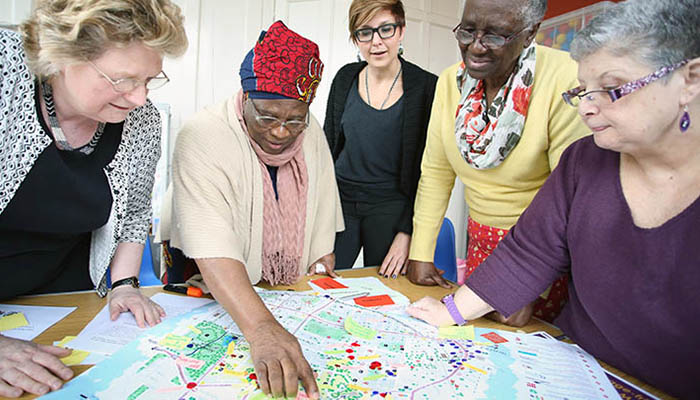 Working in Partnership: Older People as Co-Researchers
By 2030, two-thirds of the world's population will reside in cities, with at least one-quarter aged 60 and over.
The World Health Organisation's Age-Friendly Cities programme emphasises the need to develop supportive environments for older citizens. This engagement project aimed to identify the issues older residents and community stakeholders view as important in developing the age-friendliness of their neighbourhood and so improve the quality of life in low-income communities.
In partnership with Manchester City Council and local community organisations, people aged between 58 and 74 in Greater Manchester were recruited and trained as co-researchers. They were instrumental in all phases of the research process and trained in research techniques to enable them to play a major role in designing, implementing, analysing, and disseminating the research.
"What attracted me to this project was that I still have a lot to give. I wanted to see what other people of a similar age wanted and how we could shape future thinking around ageing cities."
Co-researcher, 71
Dr Tine Buffel worked alongside 18 co-researchers who were each experiencing isolation, poverty and/or health problems. They interviewed 68 people aged 60 and over across three neighbourhoods in Manchester about their everyday lives and concerns.
Throughout the project, the co-researchers and participants took part in a range of public engagement activities, from coffee mornings to formal steering groups and social gatherings out in the neighbourhoods.
The project led to tangible outcomes, including the return of a much-loved local bus service, and was supported by Manchester City Council in its efforts to promote age-friendly communities. The co-researchers produced a guide to the work they did and the benefits of participation.
The project won the Working in Partnership category in the NCCPE's 2016 Engage Competition, and the co-researchers continue to be active in applying for funding and seeking further age-friendly developments.