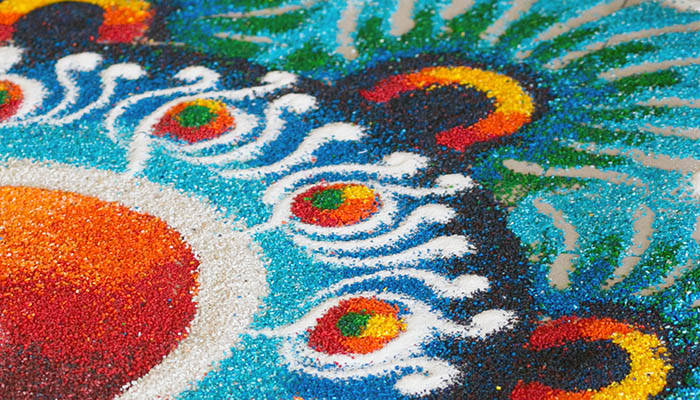 Wriggly Rangoli
This project saw large-scale public art (Rangoli) raise awareness of parasitic infections.
A group of immunology researchers worked in partnership with Inspired Sisters, an Asian women's group from Longsight in Manchester. The aim was to demonstrate the role science plays in reducing world poverty by highlighting the global burden imposed by worm infection.
In a parasitic infection workshop, the scientists talked to a group of 40 Asian women and their children about parasitic infections and how they affect people around the world.
The women were then invited to share their own experiences before drawing up 'Rangoli' designs based on what they had learnt about parasitic infections.
Some of the designs created in the workshop were scaled up and recreated as Rangoli on the pavement in front of Longsight library.
"I have been working in immunology for 20 years, but I have never seen anything like this."
Professor at The University of Manchester
A scaled up version of the Longsight Rangoli and was open to the public in the Manchester Museum's courtyard. A total of 184 people attended and 157 of them actually participated in creating the Rangoli.
All round the area, posters about the worm were displayed, and University staff and students were available to talk to people and answer questions about the topic.
Top tips
Sharing experiences between different types of organisations and with new audiences need not be intimidating.
The style of presentation is key to engaging the audience – using visual representation engages people where language is a barrier.
An inter-disciplinary and intercultural partnership can form the basis for further exploratory activity.
Partners
Dr J Pennock, Dr S Cruickshank & Professor K J Else, Researchers, The University of Manchester, Inspired Sisters, Longsight, Manchester Development Education Project.