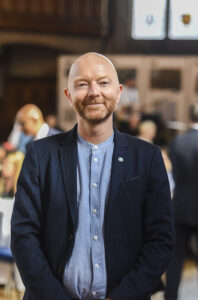 October has been something of a tumultuous month across our political and economic landscape. At The University of Manchester we remain steadfast though, in our commitment to the five priorities we set to create a more inclusive, prosperous, healthier, sustainable and culturally-vibrant future.  
On social inclusion, a big focus has been on introducing a range of new measures and support for our students and staff in response to the cost-of-living crises. We had the privilege of hosting the Spirit of Manchester Awards, a celebration of voluntary and community action in Manchester. A new project has been launched which aims to help researchers and policymakers to make Greater Manchester a more 'age-friendly' region. A new report by experts from the University and barrister Keir Monteith KC has raised urgent questions about racial attitudes and practices in the justice system in England and Wales. And we recap on the Black History Month Lecture with Professor David Olusoga OBE. 
On prosperous communities, we are proud to be part of the city of Manchester team who worked together to achieve Living Wage City status earlier this month. We have released research showing the positive impact of Greater Manchester's universities on the city region, its people, and businesses, one year on from the signing of a flagship agreement. And we have been busy playing a key role in helping to 'Level-Up' our region to create a greener, fairer and more prosperous future through our role in Innovation GM and the Mayor's new Atom Valley projects.  
On better health, University of Manchester Professor Perdita Barran and Joy Milne, a 'super smeller', are working on ways to improve Parkinson's diagnosis. We're supporting student wellbeing through Connect, one of the University's Six Ways to Wellbeing which encourages our students to make connections at the University and help them to make the most of their university experience. Our academics are leading the way forward in psychological research through academic-patient co-productions with 'experts by experience'. And congratulations to Dr Joanne Pennock from our Lydia Becker Institute of Immunology and Inflammation at the University, who has received the prestigious JoVE (Journal of Visualised Experiments) Educator Innovation Award. 
On environmental sustainability, our Sustainable Consumption Institute (SCI) has collaborated on 'Young People at a Crossroads: Stories of climate education, action and adaptation from around the world' – a new climate education resource for teachers, students and researchers. Staff at the University have been breaking in their new graphene trainers for a dawn run to help launch COP27. We recap on a 2022 Making a Difference Award and Better World Award winner, who is facilitating the net zero transition in the power industry. University experts have created a pioneering research platform called 'Virtual Labs' which uses autonomous AI to tackle climate change. The Graphene@Manchester team recently hosted a sustainability week. Chantal Bright from our Sustainable Consumption Institute has published a blog post about her attendance at the World Water Forum in Dakar. We look back on the success of Ardwick Climate Action Day. And the University played a key role in this year's Greater Manchester Green Summit, providing expertise on progression of reaching the University's calculated science-based goal of Zero Carbon by 2038. 
Finally on cultural engagement, have you ever wondered what it's like to work in a library? Want to create your family oral history but don't know where to start? Find out at the Being Human Festival 2022. We share the personal stories behind those involved in public engagement at the University. And the annual ESRC Festival of Social Sciences has returned to Manchester for its 20th anniversary. The Festival will show some of the spectacular research conducted across the social sciences at The University of Manchester, Manchester Metropolitan University and the University of Salford.  
We are delighted to have launched our new social responsibility and civic engagement website this month. You will see all our news stories look slightly different. So, why not take some time to look around the new site and explore our social responsibility priorities, our new SDG and public engagement pages, plus much, much more.
Whether it's an exhibition, conference, lecture, or performance there's a range of exciting events coming up at The University of Manchester for staff, students and the general public. We hope to see you at some of these soon. 
Dr Julian Skyrme, Director of Social Responsibility